YouTube is one of the fastest growing online platforms today. Businesses find that it's an ideal space to find new customers and appeal to existing ones by creating a corporate YouTube channel. The simple interface, free service model, and ability to target large-scale viewer bases makes it an extremely useful tool for all kinds of businesses.
Why Create a Corporate YouTube Channel?
Among the many reasons why companies choose YouTube is because it helps them connect with customers and clients while sharing information about products, services, and your brand.
There are many different types of video content that can help promote your services such as:
Features on how to use your website.
Engaging customers with tutorial-style videos.
How to use or order various services.
Sharing important information.
Creating simple lessons for your clients.
Stimulating brand appeal with funny, heart-warming, or compelling viral videos.
Prompting customers to explore your offerings.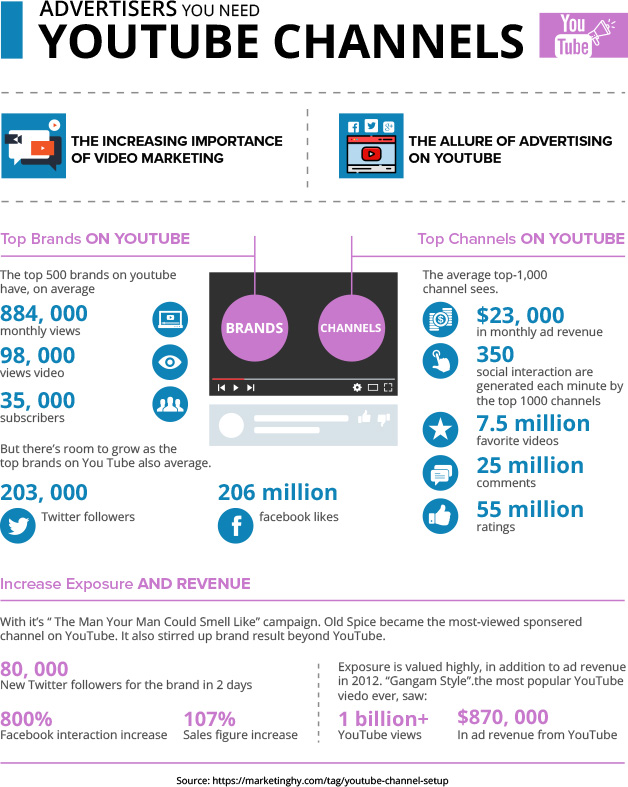 The Quality of Both Video and Content is Important
The online world revolves around social media. People love liking, sharing, and posting content, and businesses are no exception. Millions of hours of pictures, music, GIFs, and videos are viewed daily, and companies who want to promote their brand and stand out from competitors use social media to leave their mark.
Video quality is so critical because the wrong type of video, whether it's grainy, unfocused, or just plain poor quality, can end up backfiring and cause loss of customers, brand integrity, or worse, become the subject of global ridicule.
Video content is best left to professionals, particularly when making corporate videos. There's trust involved in a high-quality video, and when viewers see this, they're more likely to engage with your brand.
How to Start a YouTube Channel for Your Business
The great thing about YouTube is that it's actually easy to make a channel for your business.
Navigate to YouTube and click the user icon at the top right of the screen

Click the gear icon to navigate to your YouTube account settings

Click "Create a New Channel"

Select "Use a Business or Other Name"

Fill in your brand name and then click "Create"

Now it's time to provide information for the "About" section

The first option you'll notice once you've created your channel is a profile and channel description. You have an opportunity to describe your brand and what you'll be featuring on your channel. You can add links to your social media, website, and other relevant sources here. Since this description is featured in numerous places on your channel, you can really let some personality shine and be smart about what you're sharing.

Photos and Banners

When a viewer navigates to a specific YouTube channel, the first thing they see is a prominent banner featuring the channel name. It's the first impression to ensure that it represents your brand well

Corporate YouTube Channel Editing to Align Content to Your Market

There is a lot of different ways to approach your video content. If you have a complicated product or service, and you need to educate your customers, then maybe a video tutorial is a good route to take. Or if you have a lot of glowing reviews from your customers, then testimonial videos are an option. Aim content towards a target audience or demographic.

Trailer

With a brief and focused trailer, you can introduce your company to new audiences and let them know what you're all about and what content they can expect to see.

Upload your First Video

Upload a professionally filmed and edited video using the "Upload" option at the top right of the screen when logging into your account.

Search Optimization

You'll need to fill in a description, title, and tags to make sure that your video can be easily found in a YouTube search. Use keywords to describe the video and your business. A well optimized YouTube video can extend to search engines like Google, particularly because Google owns YouTube.

Websites and Social Integration

You should share your video on your website by adding it to the homepage for visitors to see right away. Add it to a blog and share with websites describers via newsletters. Your website can also be synced with your YouTube channel.

Your Engagement

People want to be part of a community, so do your best to reply to comments, questions, and listen to feedback
Different Ways You Can Promote Your Business
Product or Services Corporate YouTube Channels
When creating a video to promote a product or service, make sure that credits are added with a URL to your website or to a site where viewers can purchase the product or service. Your product video can also be embedded in your website.
Product Demo or Guide
As an instructional tool, YouTube videos improve customer loyalty and reduce returns and churn rates while enabling a company to enhance customer service without straining resources. "How to" videos and "Product Demo" videos allow audiences to see a product in action and are a great B2B and B2C sales and marketing tactic.
Explainer Videos
Explainer videos help businesses track interest levels by displaying the number of views on each video. Also, customers can better understand the functionality of products and services with a captivatingly designed explainer video. This type of video is widely shared and are especially useful for complex offerings.
Educational Content
YouTube is a breeding ground for learning how to do things. "How-to" video searches have risen 140% during the last thirteen years, and businesses are seizing this opportunity to gain new audiences through new educational product content.
Brand Storytelling
People love inspiring videos, which is why storytelling is an effective and dynamic way to create video content and share your business's image, brand model, and ideals. Customers want to know that they're buying a whole experience, not just a product or service.
Special Promotional Campaigns
For creating promotional campaigns:
Choose the right video for the campaign.
Create a video ad.
Select where you want people to navigate to after they click on your video ad.
Choose an online video marketing budget.
Narrow in on your target audience.
Other Corporate Promotion Tips
Take inspiration from what's successful on YouTube, like videos that are useful, entertaining, funny, emotional, or odd.
Use keywords in the title description and tags.
Select thumbnail images that attract attention.
Add your URL to your video description so people can click on your link and visit your site.
Use a diverse call to actions, such as prompting people to rate videos, follow your business on other social media platforms, encouraging them to subscribe, post comments, and share.
Use a soft sell approach for a better customer response instead of aggressive sales pitches.
Create playlists by adding your video to a new playlist and adding relevant videos from other people and choosing a catchy playlist name.
Use YouTube as a social network to message and add friends, join groups, and interact with the community.

Case Studies of Successful Corporate Videos on YouTube
Many businesses have had great success with corporate videos on YouTube:
Sensis Digital Marketing Case Study

As Australia's number one ranked marketing services company and print directory publisher, Sensis engages consumers with businesses through search engine marketing and optimization services, and a digital advertising agency. An explainer video with clean, bright graphics and simple storytelling humanized Sensis and easily described how they help small businesses.
Facebook Customer Experience Case Study

California based Facebook is an online social networking and social media service that's accessible across a large range of channels and networks. Nostalgic cartoon-style animation and a straightforward approach to explanation allowed audiences to see how businesses can use Facebook marketing.
Coca-Cola Digital Marketing Case Study

As the world's largest beverage company, Coca-Cola features 3,900 beverage options. To celebrate their 100th anniversary, they searched for people creating happy moments online and spreading it. A vivid, minimal color palette and infographics supported the storytelling techniques, captivating viewers with a positive message.
Ingredients for a Strong Corporate Video
The goal of creating a successful corporate video is to generate connections with long-term clients. However, this objective can quickly dissolve with even the simplest mistake. This is why quality production is such a powerful, valuable ingredient in a successful, well-received corporate video.
Quality
Avoid including too much information and get right to the point.
Videos that last between 30-90 seconds generally garner the most views.
Improve engagement levels by focusing on fulfilling the need for instant gratification; keep your corporate video targeted around a single idea.
Using a DSLR camera can produce high-quality content and resolution.
Music can really set the tone but avoid using genres that are distracting or that will create copyright issues or social conflicts.
Final Cut Pro is a great editing program for video footage but can be costly.
Design
Corporate videos are not conventional video advertising, so reaching for broad appeal and general audience viewership isn't the intention. Focus on explaining your objective to a target demographic.
You're not going to win over audiences or maintain interest unless the design is exciting, polished, and provides a true experience.
Don't forget the who, what, where, when, and why.
Highlight your brand accomplishments, strengths, and liberally incorporate slogans, logo, brand color schemes, and products.
Color
Color correction and grading can be a huge benefit for corporate videos, so utilize programs like Red Giant's Magic Bullet or Davinci Resolve.
Filters can alter color palettes and act as a storytelling propellant, setting the tone for your message. Warm colors can be happy and uplifting, or foreboding warnings, so pay attention to tone and filtering.
Color can be utilized to make an object pop by using a masking technique that eliminates surrounding color, so the figure or object stands out.
Brand Awareness
Logos present your company's first impression to viewers.
Professional logos require effort and expense and add a level of seriousness to your channel.
Memorable logos differentiate your channel from competitors.
40% of people believe that logos reflect a direct association with industry, so a proper YouTube logo is key.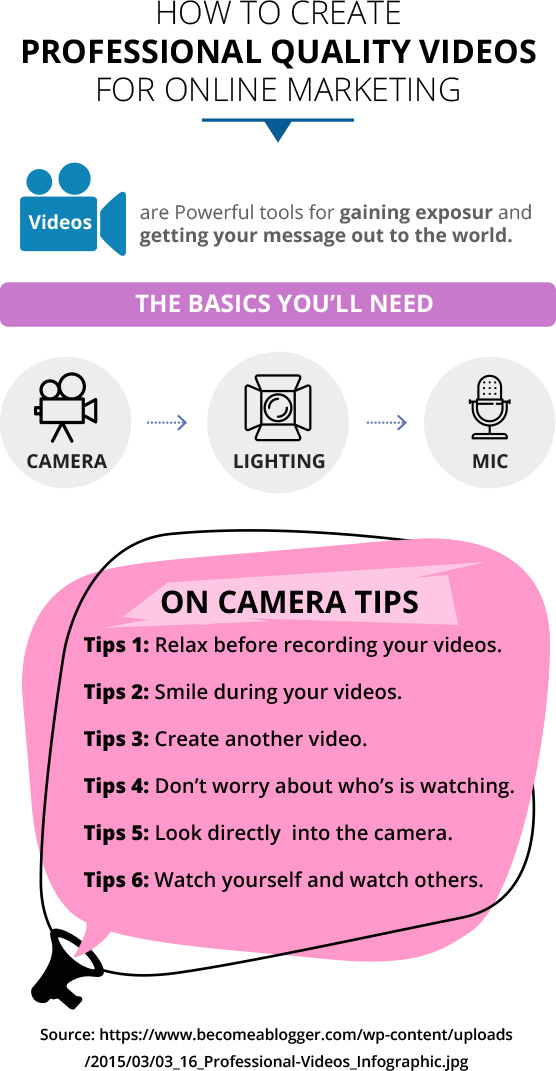 Tips for Creating Powerful Corporate Videos
When creating a dynamic and compelling corporate video, thought needs to be given to the creation process, editing, and post-production up until you deploy your publishing strategy on YouTube.
Telling Purposeful Stories for Brand Awareness
Be sure that your corporate videos are distinct to the specific audience they're intended to serve, whether its obtaining new clients, introducing customers to your new employees, promoting products and services, or generating brand awareness.
Generating trust with customers and showcasing your company's value can be done most effectively with customer testimonials.
Employee testimonials serve as an efficient way to recruit new personnel and create a sense of inclusion and brand familiarity.
Short documentary style corporate videos featuring an important client discussing your product are another popular method of highlighting industry expertise and inspiring trust.
Planning the Storytelling
Following a decision of what the video's main goal is, your business should decide which company representatives should provide video input, and what other resources might be helpful, such as third-party clients, and a specific budget or time frame.
Don't attempt to create the video alone because a successful video usually involves an entire team with unique insights to share.
Engage Your Audience
Every story is distinct, and not all are equal, so each of your videos needs to have a strong purpose.
The intent is important; some videos might be intended to produce an emotional reaction from your audience and create a sense of nostalgia. Others might be funny and intended to gain a humorous response.
Quality videos take time and money to produce, so while you are planning your video, think about the story you would like to tell and choose the strongest of them to produce.
Sharing Your Corporate Video with a Global Audience
Once your video has been created and produced it's ready to be shared, and this requires an effective, intelligent launch plan.
Don't become so wrapped up in production and post-production processes that marketing and distribution strategies fall by the wayside.
YouTube is an ideal platform for hosting your video because aside from being the most popular video hosting site, it's second only to Google for the most popular search engine.
Promotional strategies are even more crucial than a hosting platform. Spread awareness to your videos through social media like Twitter, Facebook, and your company website, blog, and email campaigns. However, make sure that you're not spamming customers.
Consider pitching your videos to a variety of publications that can help people learn more about your company.
Corporate Video Editing Stages
Story
This includes all of your pre-production components like organizing resources, compiling footage, syncing audio and camera's, and preparing everything for edit. During this stage, the story is a mere outline for what it will later become.

Though this raw layout might be difficult to share with clients because it doesn't look polished, it saves time in the long run so you can work out details before further production processes occur.
Only move to the next stage after sharing and receiving feedback on all of the components and before adding in transitions, B-roll, and other elements.
Rough Stage
During this stage, the video will gain more professional polishing through editing skills that impact the script and the laid out elements.

Decisions are made on which should be used and which should be stitched together. Blank spaces and pauses are removed and edited so that the video seamlessly integrates with music.
Picture and sound locks should be wrapped up without maxing out render times with altered footage and audio.
Final Stage
This stage should be the most simple to finish because the video has been given the go-ahead and you're now able to add color correction, stabilization, and lens flares.

A full export can be done instead of a quick review cut.
Save editing time by dropping footage to the same layer if using Premiere Pro and conduct final audio sweep and add animations to text, along with infographics.
Video Production Process
This process depends on the type of content, style, timeframe, and budget, but there's a general foundation amongst successful video producers:
Pre-Production

Incorporates planning, research, and organization to help the video be successful. Includes video strategy, budget, story, timeline, script development, voice or acting talent, characters, equipment, location, and production team.

Production

All the raw materials for the final video are acquired in this phase. Specific project ideas, visuals, or overall vision should be communicated to the video producer. This stage includes performing interviews, recording voice-overs (if needed), capturing B-roll, and setting up equipment.

Post-Production

Producers and editors assemble the story components and video editing is conducted to bring the entire video together. This includes music choices, video editing, logging interviews, producing a final story, gaining feedback and approval, and final delivery.
Required Skill Sets for Corporate Video Editing

Lighting
Good lighting is very advantageous and is an important part of a quality video. At the very least, a large-scale lighting source should be used.
Don't attempt to create the video alone because a successful video usually involves an entire team with unique insights to share.

Sound
Always invest in a high-quality mic because the sound quality is a vital factor in appealing videos.

Editing
Use an intuitive program such as Adobe Premiere, iMovie, or Final Cut Pro.
Learning some basics of editing theory may be helpful.

Overall Production Value
High-quality videos can equal lots of subscribers, so create as polished a video as possible.
You may have to table some production specifics if the quantity is more important to you than quality, so allocating resources to some areas over others can still help you maintain decent quality.
High-End Software Required for High-Quality Video Development

Windows Movie Maker
Designed for fast edits that don't demand a lot of technical proficiency or video editing skills.

Wondershare Filmora
This is a solid choice for beginners and casual video editors. It has a simple interface that can produce high-quality videos. However, it does not include many advanced features.

Pinnacle Studio 21.5
Features basic video editing components with a few special editing supports, like paint effects.

Movie
This interface is user-friendly and can import video files from a hard drive. Tiles, music, effects, and themes can be added along with basic enhancement features.

Final Cut Pro
This popular software is known for its high-end editing capabilities and is a favorite amongst industry professionals.
Best Practices to Develop Effective and Appealing Corporate Videos
Adopting some best practices can give your business a better chance to create truly appealing and highly engaging corporate videos.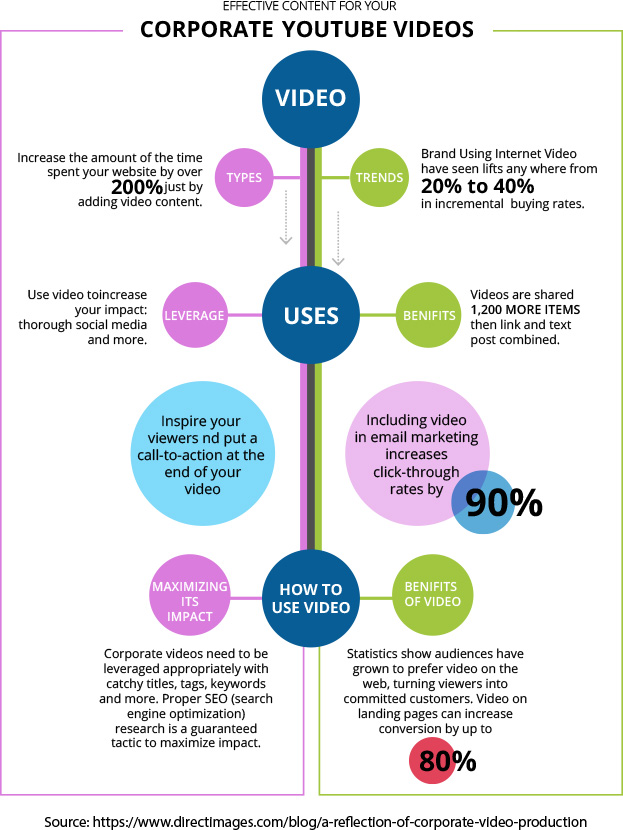 Creating Effective Corporate Video Content
Choose the best distribution channels for your content, including those apart from YouTube.
Repurpose your content to get the most out of your investment, such as reusing certain content elements across different platforms.
Consider that the average ROI for corporate videos is higher than other marketing methods.
Make sure your content is truly meaningful and captivating for audiences so that there's value to be obtained from watching it.
Add your own unique flavor with high-quality effects like thoughtful audio, music, or camera aesthetics.
Don't be afraid to emblazon your branding components throughout your video, including icons, logo, and messages.
Emotional connections with audiences are key because people will remember how they felt more than anything else.
Don't overload your audience; be succinct. Remember that the average attention span is about 8 seconds, so keep your length less than 2.5 minutes. 
How to Promote Your Corporate YouTube Channel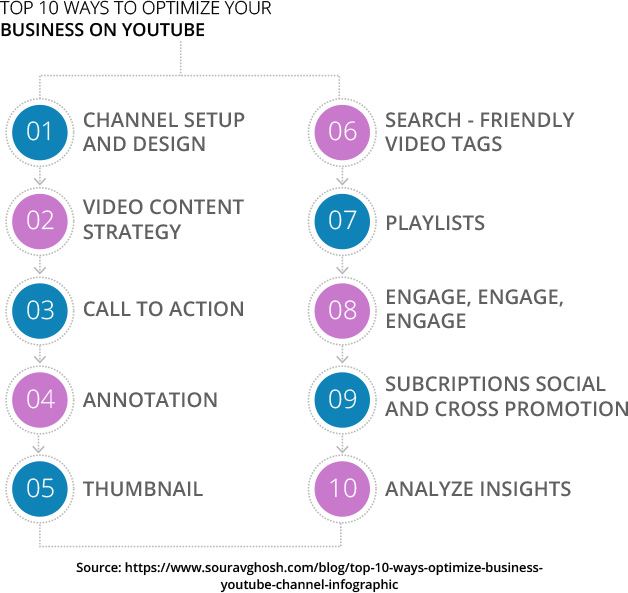 Small businesses and entrepreneurs alike have found success on YouTube with marketing videos. Certain YouTube channels can be a very educative format for businesses and entrepreneurs to learn from their peers and other business leaders.
Ted Talks People prefer watching videos and opposed to text and can learn more from viewing it. Video content comprised 74% of online traffic in 2017.
EntrepreneurThis centers around big business trends, ideas, and advice specifically for small business owners and entrepreneurs and also features news, expert advice, and industry-wide interviews.
Gary Vaynerchuk This channel showcases advice from the CEO and founder of VaynerMedia and is a favorite amongst business leaders and entrepreneurs.
Content Marketing Institute (CMI)Provides insight for entrepreneurs who want to learn about marketing strategies, CMI stresses the impact of branding and storytelling and features brief videos.
Set the Business World on Fire with Corporate YouTube Videos
A study of 3,000 US campaigns examined how the total reach of millennials would be affected if campaigns replaced their TV advertising strategies with YouTube ads instead. Without spending any extra money, 46% of the campaigns would have benefited from a combination of both YouTube and TV and an increase in the millennial impact of 42% compared to just TV.
Brands need to shift their resources to a corporate YouTube channel to generate proven brand awareness that resonates with target audiences.
TrueView ads, which are YouTube's skippable ad format, allows viewers to either watch an ad to completion or skip. Results for 89 U.S. brands revealed that viewers who watched an entire TrueView ad were 23 times more likely to visit and subscribe to a brand channel, watch more video content by the brand, and share brand videos. Viewers who were minimally exposed to TrueView ads were still ten times more likely to complete one of the above actions.
YouTube has become the most powerful format to promote business content and increase brand engagement. Creating a corporate YouTube channel can be a guaranteed successful tool in the arsenal of a business's marketing and sales strategies if companies focus their video production campaigns in an intelligent and effective route, and take care to produce and launch high quality, meaningful videos to a key audience.
Compelling corporate videos requires a video production agency with the passion, professionalism, experience, and technology to set trends in the business world. Video Caddy has provided best-in-class international support for corporate video production for small businesses, entrepreneurs, and Fortune 500 C-level executives. Video Caddy helps companies create engaging, stimulating, and purposeful video content with a matrix of video editing, animation, storyboarding, and character creation. Launch your corporate YouTube Channel with the support of a trusted outsourcing team and reach your marketing goals.
– VideoCaddy
Disclaimer:All the product names, logos, trademarks, and brand names are the property of their respective owners. All the products, services, and organization names mentioned in this page are for identification purpose only and do not imply endorsement.