The holidays bring family and friends together. Short or long – vacations are the best mediums to celebrate, enjoy each other's company, and create beautiful memories with loved ones.
With videos, you can capture all those special, fleeting holiday vacation moments for life. Every laugh around the dinner table, every joyful expression on your children's faces as they open their gifts, and every fun around the campfire can all be captured life-like. The holiday videos capture the moment forever and help loved ones remember and share their unique holiday traditions for years.
Making a good holiday video starts with the good, clean, raw footage. This isn't very hard to achieve when keeping a few guidelines in mind, and it's important so that you can eventually turn your raw footage into a beautiful holiday video.
Keep it with time stamp, and years after, when you watch the videos, you will feel the same warmth of togetherness. A family holiday video library connects one generation to the other – get one created for you.

Everything You Need to Capture for an Enchanting Holiday Video
Capturing a heartwarming holiday video doesn't have to be complicated, and you shouldn't have to worry about the technicalities of shooting great videos when you're trying to be present at the moment with your family, friends, and loved ones. These simple tips can help you get all of the technicalities right so you can enjoy your holiday events and festivities.
Camera and Equipment
The first and foremost – don't experiment and use the camera you're familiar with. Don't forget the batteries or power cords. A tripod, tripod head, memory card, and lenses are the other essentials that you need.

Camera Settings for your Location and Weather
If you're using a smartphone, make sure you shoot with the rear camera because it's typically of higher quality than the one located on the front of your phone's screen.
You need to adjust your camera settings according to your location and the weather. This is very important, and probably you need to keep a few presets handy for different scenarios.
For example – in the rain, turn off your flash settings, use rapid shutter speed, and a medium to high ISO (a brightness level camera setting).
In snow, you need to increase your exposure levels to make sure your photos don't have a gray cast.
Also, to prevent graininess and darkness when taking videos indoors, choose a longer shutter speed or increase the ISO to brighten the shot.

Smart Shooting and Storytelling
Your video should tell a story, always keep this in mind as you're recording. Enjoy your outdoor activities and capture the people, the flow of the events, and the moments that make up a truly great and memorable story.
Also, don't forget to prop your camera or phone up on a steady surface, or using a selfie-stick, to stabilize the shot.

Balance Your Shots – the 60-40 Rule
Rule of thumb – 40% you, 60% of your surroundings. Focus yourself and your loved ones, but also capture the surrounding, nature, the movements around.
Along with yours include at least 60% of your surroundings to give context to your video memory. The cozy fireplace, a snowy porch, scary backyard of a house, or a funny couple – all will add up to your lovely memory. And don't forget, choosing the landscape setting on your phone can capture more detail in a single frame.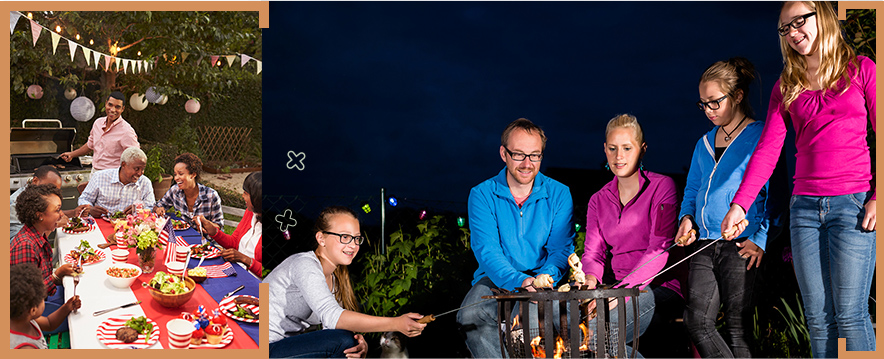 Diversify your Shoots
Take videos from different angles and locations. And yes, the glasses, jacket, and hat you wear or the faces you make can make the videos even more interesting.
Try taking some short videos from different perspectives, and later those can be mixed up. Also, experiment with both portrait and landscape modes while shooting, or picking another spot in the room to record from to change the perspective.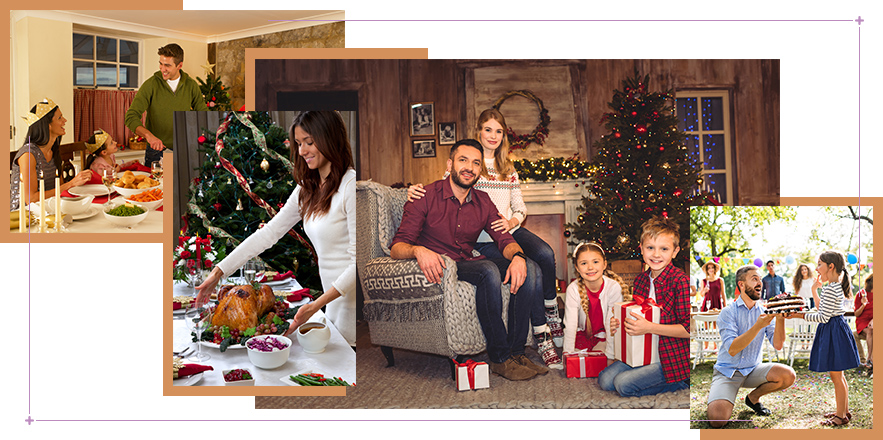 Make it Short
You want to tell a story, but long videos can be more challenging to edit, harder to watch, and can be boring.
Instead, take multiple short videos utilizing different angles and perspectives so you can retain a full picture of the event and enliven the moment's atmosphere. You can also take sill images and convert your holiday pictures into videos.
Export it Correctly
Make sure you export your videos properly to maximize the quality and viewability. This also helps in keeping the file size manageable.
You'll also want to use a common format, such as MP4, MOV, or AVI so that the videos can be viewed on more devices and software programs. When sharing the video or having it edited, it helps to have the video already in the desired format, so quality isn't lost during conversion.

Transform Your Raw Clips into a Magical Holiday Video – What's Needed?
While there's certainly no shortage of apps out there to help you piece together your video clips from the holiday season, nothing compares to a professional editing or post-production process to bring lasting quality, seamless scene transitions, music, festive graphics, and a dose of holiday cheer to your video.
Festive Graphics Professional editors can add stunning seasonal and festive touches to videos for emotional and visual impact. Details like names, captions, dates, greetings, icons, decorations, symbols, or sentiments in beautiful and classic holiday colors, themes, and designs, can bring out what the holidays mean to you and your family.
Holiday Music Experienced editors can use cutting-edge software to add holiday music, melodies, or sounds to your video. Add in a soft holiday piano score to the background, a full holiday carol, or twinkling bell chimes for extra charm.
Special Effects Editing experts can add unique, holiday-themed special effects like short animations, multi-colored lighting effects, rendering, custom transitions, snowy-edged fading effects, or artistic filters. Or add in some of your family's personalized themes, like graphics created from handwritten notes and cards, or children's drawings.
Editing and Enhancements A professional editor can correct and enhance all of those small, but important issues that can occur when taking holiday videos, like shaky, dark, blurry, or unfocused footage. Shaky videos can be stabilized, dark videos can be brightened, blurry videos can be sharpened, and colors can be enhanced and brightened.
Merge Video Footage An experienced editor can take any number of video clips from different recording devices and merge them into a seamless video without awkward transitions. Any unwanted clips or moments can be removed as well, leaving only the most special moments and stories behind.
Professional Holiday Video Editing for a Lifetime of Memories
Video Caddy (VCD) has been helping individuals to studios in providing custom created holiday videos. With over a decade of experience and a skilled video editing team, we have been putting together holiday vacation memories, special moments, and events with our reliable and affordable video editing services. We take your raw footage and put it all together into videos that you can share with your family and friends, send as digital holiday cards, and post across social media.
Save your holiday moments as cherished digital keepsakes for you and your loved ones to enjoy for years to come, with Video Caddy's Holiday Video Editing Services.
– Video Caddy