The most successful people in the world all share one common trait – they are constantly seeking more knowledge. Learning is the only way to grow and this is something that more and more people are using to their advantage – for upskilling themselves and finding new professional opportunities. eLearning has created a stage that provides a convenient way for individuals to improve their skill sets from the comfort of their devices.
The fact is that there's never been a better time to create an eLearning course. Whether you are an instructor or an entrepreneur, either way, you can share your knowledge with others, helping them grow through online courses. One of the most essential elements of a successful online course is the creation of its storyboard. eLearning storyboards act as a template based on which course instructors can create an entire course efficiently.
Let us take a look at the 7 steps that are essential to the development of a high-quality eLearning storyboard for a course that delivers a rich, engaging experience to your learners.
7 Steps for Creating an Effective eLearning Storyboard
Step 1: Create an Outline
Start by answering the following questions:
Why do you want to create an eLearning course?
What will be the main goal of the course?
Will there be any secondary goals? If so, name them.
These answers will provide you with the baseline for developing your eLearning storyboard. Having a clear path defined upfront, before moving forward is essential. If you get into this process blind, you will end up having disorganized content that is bound to affect the quality of your course.
Step 2: Select an Elearning Storyboard Template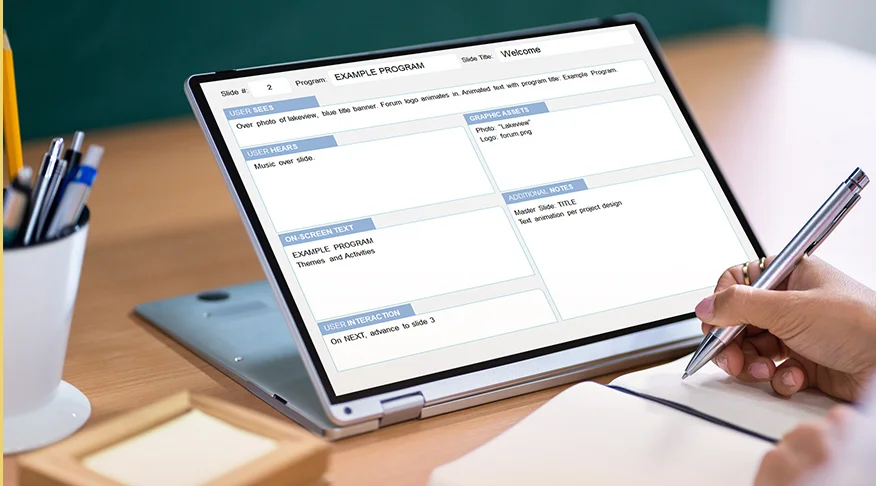 There are several types of storyboards that you can create but your best option is to use PowerPoint. It's simple, easily accessible, and provides powerful visual aids. Use the tools within PowerPoint to lay out the template for your entire course. Don't worry about adding content yet. You are building the framework but not filling it. This will keep your entire eLearning course design consistent.
Step 3: Study the Target Market
Research the target market for the eLearning course so that you understand exactly who you're teaching. Design everything as if you are speaking to those exact people. The educational background, culture, profession, and experience of your learners are all important traits to take note of when creating your course. This ensures that when you finally add the content, it addresses all of their pain points and meets their expectations.
Step 4: Determine How Assessments will be Measured
Will you test students of this eLearning course by giving them exams or grading assignments? Add this information to your eLearning storyboard by setting objectives for each module. This can be something as simple as a summary to a full-fledged test that the students will have to pass in order to assess the next module.
Step 5: Create the Content
By this point, you will have all of the modules laid out so now you have to create the content for them. Make sure that your eLearning storyboard flows naturally and engages the audience. Label the topic, describe your idea, and focus on the main points. Also, try to maintain a conversational tone.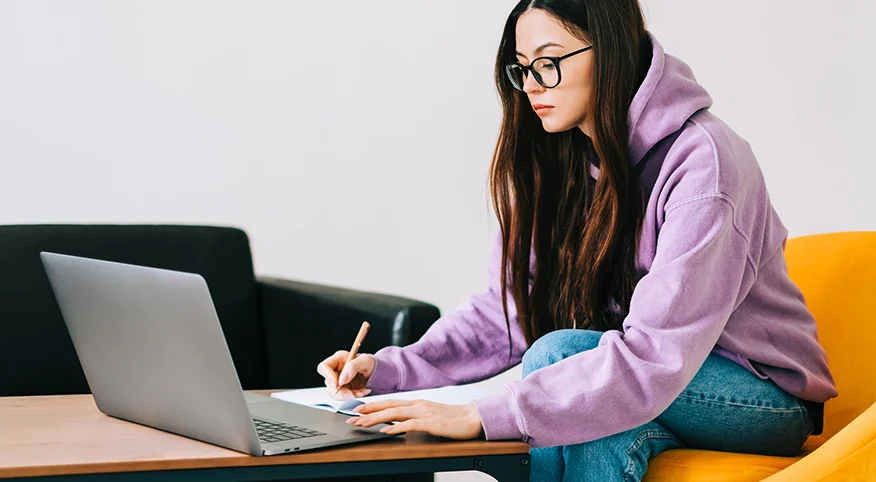 This step also includes adding in any audio and/or videos you want to be a part of your online course. Finally, recap every module by asking and answering a series of questions before moving on to the next module.
Step 6: Map the Storyboard Content
Clearly define every module and plan how you're going to present it. Will you have menus or rely solely on forward and back buttons? In most cases, it's highly recommended that you use both.
You should already have an outline in place by this stage, so use it as a roadmap for creating easy navigation throughout the course. The goal is to make it easy for individuals to find and access modules. Finally, map the content you've created to every module and/or sub-sections within it.
Step 7: Choose Multimedia Elements
Your eLearning storyboard should incorporate multimedia elements like images and videos to convey the course material. Therefore, you need to make sure all of this material is laid out in an engaging way. Decide on all of the multimedia elements you will use and make sure you have room for them on the eLearning storyboard template.
Conclusion
Creating a high-quality eLearning storyboard can be a time-consuming process but it's required in order to create a high-quality course online. Fortunately, there are storyboarding experts who can speed up the process for you, provide useful insights, and free up your time so you focus on creating the actual content.
Let Video Caddy plan your eLearning storyboard and set yourself up for success right away. Contact us today for a free quote!