Explainer videos have become one of the greatest trends in marketing and for a good reason. They represent everything that a consumer expects from a brand. Consumers expect a brand to address all of their pain points, and explainer videos do just that.
According to a study, approximately 65% of the population is made up of visual learners. That explains why businesses are willing to invest so much in video marketing. But the truth is that consumers don't have time to read through thousands of words of text when the same information can be explained in an interesting 5-minute video.
Finally, explainer videos are also accessible from anywhere, so anyone with a smartphone, laptop, or tab can watch them on-the-go. So, videos are accessible for consumers when they are standing in line or sitting in a waiting room waiting for an appointment.
Types of Explainer Videos and Who Needs them the Most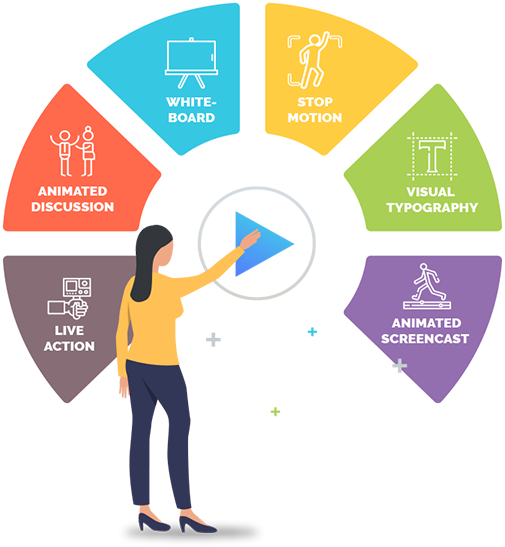 Explainer videos are starting to comprise much of a brand's budget because of how successful it can be. A well-established company knows how important it is to be in a team that can write compelling scripts and creates top quality animations. But before we dive too deep into this, let's look at some of the different types of explainer videos and what types of businesses benefit from them.
2D Character Animation Videos These types of videos are useful for businesses of all sizes because they don't cost an arm and a leg to produce.
2D Infographic Animation Videos Usually, we'll see small businesses using this type of video since it's easy and affordable. Additionally, infographics are quite popular.
Whiteboard Animation Videos These videos showcase sequential images drawn on a whiteboard. They are used in rare circumstances where you need to communicate information or concepts that must be hand-drawn.
Live-Action Videos As the name says, this is an explainer video featuring a real person. It's usually reserved for large businesses since the budget requirements are high.
Screencast Videos This is used for explaining software because you're recording your screen as you use the product. If you are selling software, then you'll almost always want to have these types of videos to explain different features.
Now that you have an understanding of the different types of explainer videos, you can make a list of the ones you'll want to include in your marketing strategy.
How to Create an Effective Explainer Video: A Step-by-Step Guide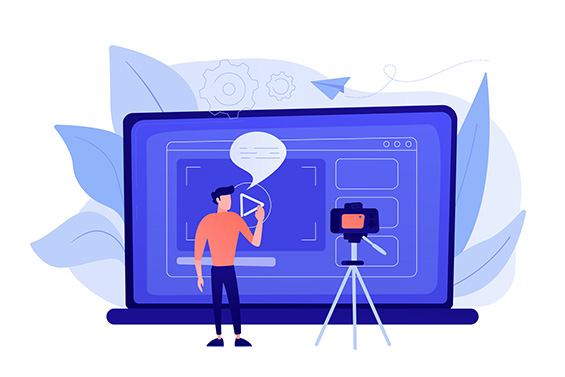 We're going to cover some of the fundamental steps of creating an explainer video. While some of the details might change depending on the type of video you choose, they will still all follow these main points.
Step 1: Define your Goals
Start with gaining a firm understanding of your target audience. You should have a detailed customer profile that's used for all marketing in your business, so that will work here. Having this profile will allow you to create videos that appeal to them. Understand your target audience allows you to uncover their pain points. Addressing these problems should be the driving force behind your videos. In most cases, each video will tackle a specific pain point.
Step 2: Prepare a Script
Here's where each type of video will branch in its direction. You'll use your goal to write the script, but you will also need to decide on the type of video you want to create. A script will address each of the following questions:
How does your product/service benefit its target market?
Which exact pain point does it address?
What must the audience do to get started?
How does it solve their pain point?
Once you address those questions, create dialogue for any voice-overs and then describe the steps you'll be walking the audience through.
Step 3: Prepare a Storyboard Based on your Script
You can't just draw a couple of pictures and call it good. You need to create a whole storyboard, which includes graphics for every step of the video. Before you start creating your video, show the storyboard to others, and see what they have to say. I can promise you that if it doesn't impact them, then it's not going to impact your audience.
Here are some things you'll need to include in a storyboard:
List of Shots
Cuts
Storyboard Template (will be different depending on the type of video)
Times
List of Props
Step 4: Create the Video
Again, the exact process is going to depend on what type of video you are creating. If it's an animation, then you would create those now. If it's live action, then shoot those scenes. Screencasts should also be done.
This is the part of creating explainer videos that are the most intimidating. There is no need for overly complex visuals or complicated angles. Just get straight to the point so that consumers can learn to use your products in an efficient manner.
Step 5: Add Music, Voiceover, and Soundtrack
Using background music adds emotion to the video, but this has to be done perfectly. Set the sound so that it can barely be heard. Explainer videos that have no background noise are extremely awkward.
This is also the step where you'll add any voiceovers needed. For animations, you'll be recording all audio during this step. Having a powerful voice engaging your viewers will make the video profoundly more impactful. You can do this yourself, but just make sure you invest in a quality microphone. Don't try using your phone or computer's built-in microphone to record audio.
Step 6: Edit the Video
Finally, you have your entire video recorded and it's almost ready, so now you just have to edit it all together. There are a number of tools that will help here, but Camtasia is probably the best choice for beginners.
‍In animation videos, you will need to sync up the voice overs to the animations. Additionally, ensure that background music doesn't distract from the voice-overs.
Then you render your video and check it again. Make sure everything was put together correctly.

Take a Look at Some Great Explainer Videos
Crazy Egg's Crazy Good Explainer Video
While you might not always be able to show your products or services in action, you can highlight some key features like Crazy Egg did in their explainer video production. One of their best features, heat and scroll maps, are prominently displayed in this animation. An audience wants to know that a product or service will solve their problems without creating additional ones and this video helps push that idea.
Spotify's Banging Explainer Video
Spotify is music entertainment software that's main goal is to provide its consumers with ambient entertainment. It comes as no surprise that their explainer video comes with a banging soundtrack. But that soundtrack is brilliantly complimented with an eye-catching color scheme and creative use of word animation. Spotify does all of this without over-complicate the message they are trying to portray, which is that their software is entertaining and simple to use.
Take the Help of an Explainer Video Specialist
Every marketing campaign involves a certain amount of cost apart from time, effort, and involvement. With all these in the right proportion only can give the anticipated results to achieve the marketing objective. So, if it's a high-value campaign or one that you don't want to risk failing, then Video Caddy (VCD) is happy to help you create the desired explainer videos. With over a decade of video editing, storyboarding, and animation experience, VCD has provided professional explainer video editing services to business across different industries. Contact us to talk to one of our in-house experts or for a free quotation.
– Video Caddy
Disclaimer:All the product names, logos, trademarks, and brand names are the property of their respective owners. All the products, services, and organization names mentioned in this page are for identification purpose only and do not imply endorsement.