Though many couples may choose to avoid observing traditions, the wedding industry is still flourishing, annually amounting to $300 billion. An important milestone in people's lives, most couple's do not skimp on their weddings, especially when it comes to their videography – often hiring professionals to ensure that the raw footage is transformed into something memorable and beautiful.
Without proper editing, a wedding video will look more like a home movie, with no flow and random stops and starts. Professionally edited footage, on the other hand, will flow seamlessly from shot to shot, with good color grading and possibly even voiceovers.
Many couples are willing to pay the extra money that comes with hiring a professional video editor; there are also some DIY wedding video tips to create stunning videos.
Key Areas to Focus on While Creating Wedding Videos
There is an art to editing wedding videos, and some of the DIY wedding videography tips and tricks include paying special attention to a few key areas to create a truly memorable video. Things like choosing the right music, planning out the transitions and paying attention to color grading all go toward creating gorgeous wedding videos.
Transitions
Transitions are important for creating a smooth, flowing video. Rough cuts in the footage can be covered up with layered effects and light leaks, and cross dissolves can also ensure that the footage plays seamlessly. Standard cuts can also be made to look amazing, with cross cuts working well in shots of the groomsmen getting dressed or the bride having her makeup done, while L-cuts and J-cuts can be used during the ceremony.
Color Grading
As weddings are usually quite fast-paced, the videographer may occasionally forget to reset their white balance, or you have to combine footage from two cameras in which the footage doesn't match. Color correction and color grading are vital to creating truly professional-looking wedding videos.
Music
Choosing the right music can make or break the feel of a wedding video, and it's important to find music that suits. Slow, steady songs are ideal for the video intro and ceremony, while fast-paced dance music is ideal for the reception footage.
Tips and Tricks to Create the Best Wedding Videos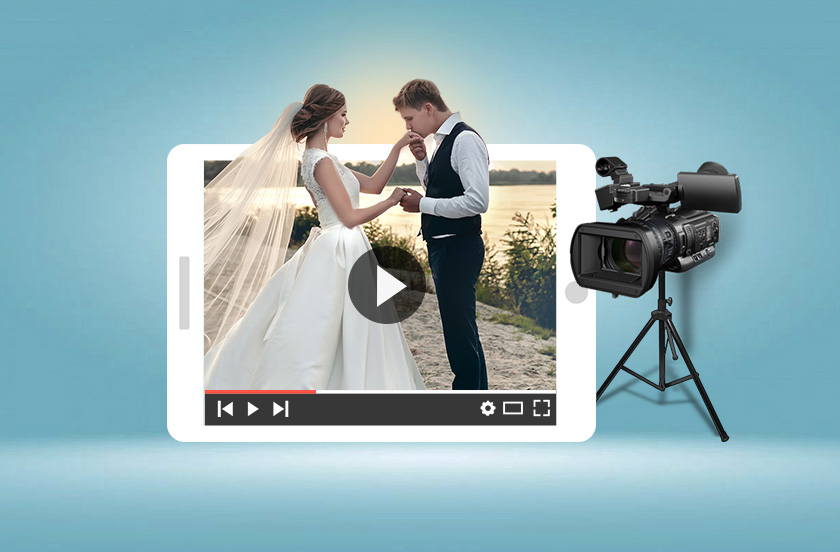 When researching how to make your own wedding video, there are some tips and tricks that can put you ahead of the game. Picking the right music, investing in the right software and ensuring all the clips are arranged in the best order a just a few of them.
Research good wedding videos One of the best DIY wedding video tips is to research wedding videos to see what other people have done and you could draw inspiration from. Perhaps their transitions are impressive, or their use of music moves you.
Choosing the right software Making sure you've got the right software is half the battle won, and you should ensure that your software has options for correcting color, video effects, transitions, audio, animations, trimming and keyframes. While there are some free and paid tools available, you should choose the one which best suits your level of proficiency
Organize the clips to tell the best storyThe first thing you need to know in learning how to make a wedding video is how to arrange clips together to tell a good story and evoke certain emotions in the viewer. Arranging your clips well will ensure a smooth flow and allow the video to tell a story
Choose the right music The right music is vital for creating a wedding video that really touches viewers and accurately captures the spirit of the day.
Choose simple titles and graphics Though it can be tempting to throw in splashy graphics and titles, it's better to keep the video focused on the actual footage, with titles and graphics used only sparingly when necessary
Benefits of Choosing a Professional Wedding Video Editor
While wedding videography tips can help you to create good videos, partnering with a professional wedding video editor will ensure truly awesome results. Professional wedding video editors often bring years of experience to the table and often make use of expensive software with techniques picked up from completing many other jobs. Offering consistent color-grading, smooth transitions, and quality music, professional video editors can deliver the full package – with beautiful titles, sound, and graphics.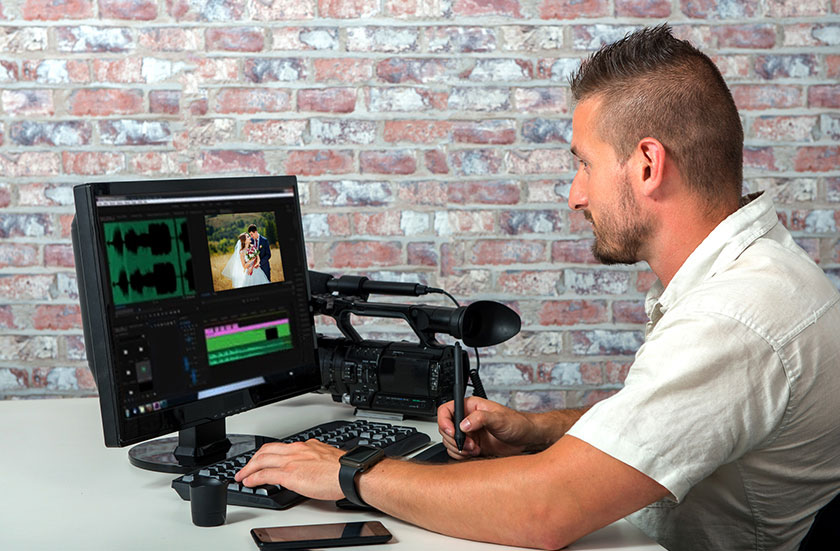 Professional editors are also able to ensure the editing is completed quickly, meaning you receive a beautiful, memorable video much sooner than if you had done it yourself.
Best Wedding Video Editing Software
Choosing the right software for wedding video editing is half the battle. Though there are both free and paid versions, the paid version will often offer more powerful tools for better looking, more professional videos.
Adobe Premiere Pro
Adobe Premiere Pro is one of the tried and true choices for video editing, suitable for both amateurs and professionals. Powerful, but with a user-friendly interface, Adobe Premiere Pro also works seamlessly with Adobe Audition for audio editing, Photoshop for photos and After Effects for animations, making it a powerful system.
Final Cut Pro
One of the easiest video editing tools to learn, Final Cut Pro is also one of the most powerful, offering a multitude of features for professionals and amateurs alike.
Partner with a Wedding Video Editing Expert for a Great Result
Wedding videos are constantly evolving, and through the DIY wedding video tips might help, partnering with a professional wedding video service can ensure that your wedding video is sleek, flowing and memorable. Even if the raw footage isn't the best, professional wedding editors have the experience to turn those clips into something beautiful.
Video Caddy has many years of experience creating stunning wedding videos and offers a wide range of editing services to help you get the most out of your video. Using high-quality equipment and a pool of skilled editors, making use of professional programs such as Adobe Premiere Pro and Final Cut Pro, Video Caddy can turn your wedding footage into a beautiful story.
– Video Caddy