Over the years, storyboarding software and tools have evolved from basic drawing and animation tools to sophisticated previsualization solutions. Video makers utilize this software to plan out the flow of visuals in a video.
To enhance the storyboarding experience, several storyboarding software are now available that provide a wide range of features. Storyboarding software features vary depending upon their utility, number of people involved in the project, budget, etc.
If you haven't explored the various storyboarding tools available in the market yet, here is a list of the Top 10 Storyboarding software to look out for in 2022 that could prove handy for your business.
1. Boords Storyboard Creator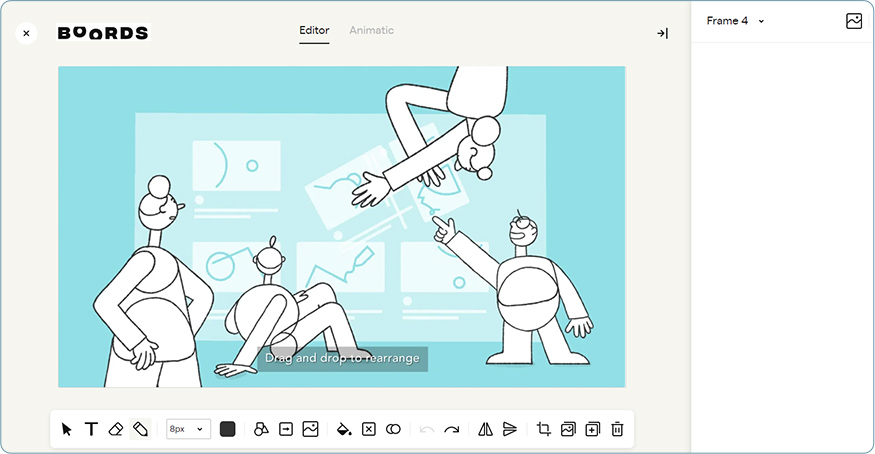 Price: $36/month (Studio); $60/month (Company); $120/month (Company Plus)
With online SaaS products becoming increasingly popular, Boords Storyboard Creator offers a versatile online tool with several free templates and collaborative tools that make work simple and less time-consuming.
This storyboarding software offers a wide range of benefits that include ease of use, minimal to no requirement of technical knowledge, and affordability. The only thing this storyboarding software misses out on is the option to control the timing of each frame of the storyboard.
2. FrameForge Storyboard studio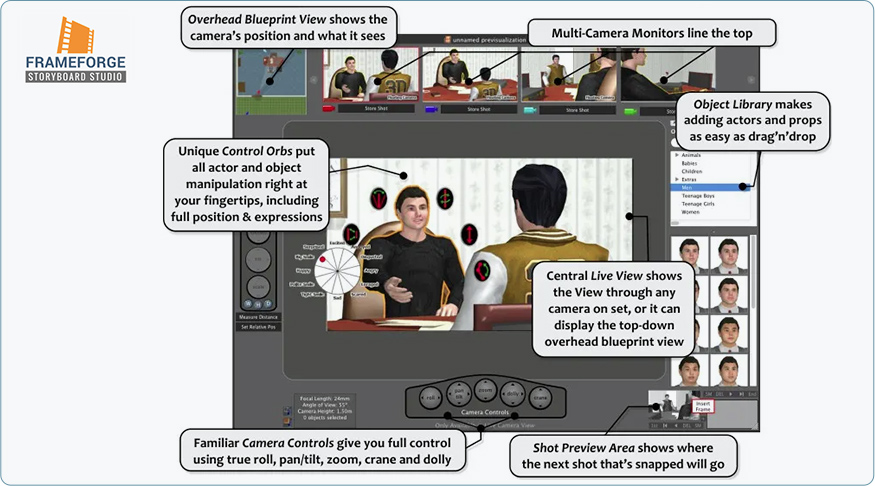 Price: $498.95 one-time fee or $12.99/month (Core Edition); $799 one-time fee or $24.99/month (Professional Edition)
Frame Forge Storyboard Studio is an Emmy Award-winning tool that has added value to users like HBO, Netflix and, BBC. With no requirement of animation or computer skills, Frame Forge Storyboard Studio offers a user-friendly storyboarding tool that can help create full-fledged and lengthy videos easily.
This storyboarding software works on any mobile device and comes in two versions- Core and Professional. The storyboards created with this tool are easily downloadable in PowerPoint format. Although there are some limitations in its animation capabilities, this storyboarding software still does the job well.
3. MakeStoryboard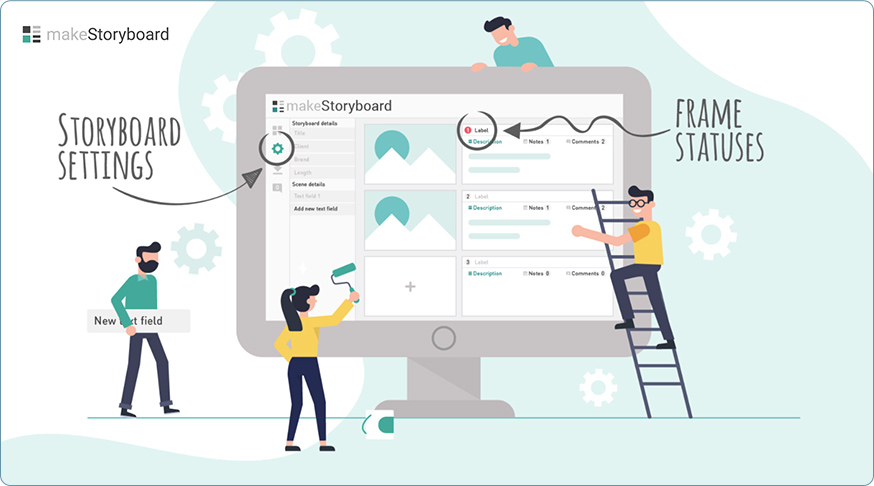 Price: Free; $12/month (Professional); $36/month (Team)
MakeStoryboard is a flexible storyboarding solution with a user-friendly interface. It is being widely used due to its unique features like quick camera shot uploads, built-in drawing tool, etc.
MakeStoryboard can be easily used on any tablet and once your storyboard is ready it can be exported as a PDF. This software did have a few drawbacks initially but these have been resolved over the years.
With simple features, this storyboarding software is a good option for teams working with a limited budget.
4. Storyboarder by Wonder Unit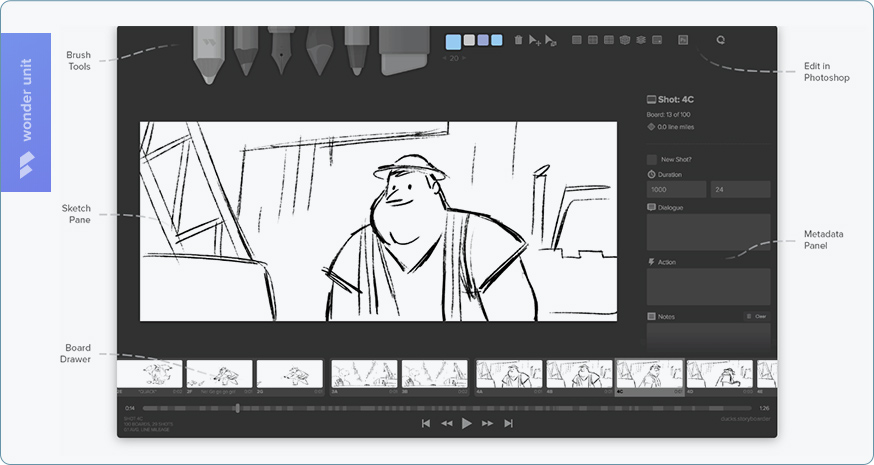 Price: Free
If you are looking for free storyboarding software that has a simple interface and works well with a small budget, then Storyboarder by Wonder Unit is your best option.
This storyboarding tool works in collaboration with Photoshop thereby allowing easy editing with Photoshop. This software has certain limitations when it comes to exporting your animatic but other than that offers pretty much all the important storyboarding features.
5. PanelForge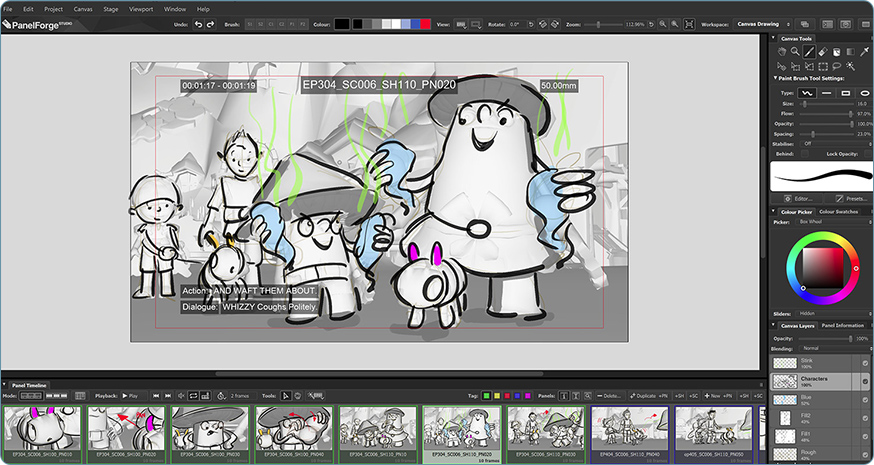 Price: Free (Public Beta); $7.31/month (Pro); $1,411/year (Studio)
PanelForge is an all-inclusive storyboarding software that is preferred by professional marketers and storyboarders these days. It offers a public beta version along with a range of paid plans.
It offers a range of customization tools such as quick move, transform, distort, blur and color adjustment effects, etc. It is compatible only with the Windows Platform.
6. StoryboardThat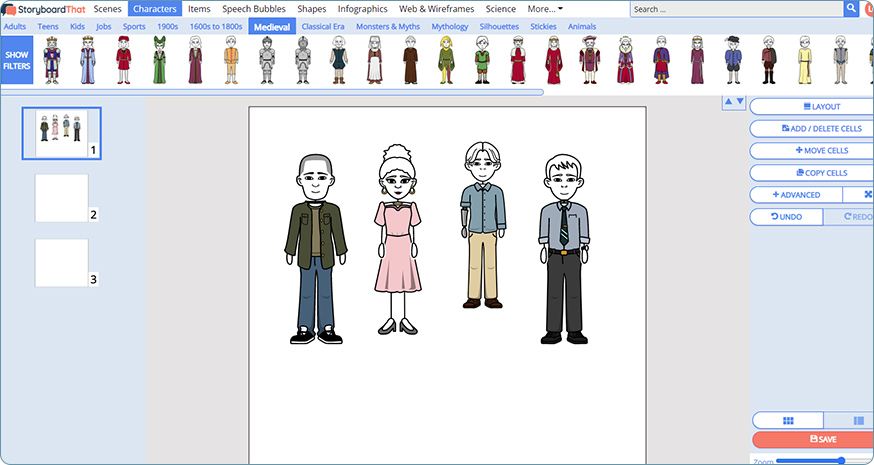 Price: Free; $9.99/month (For Fun); $8.99/month (For Teachers); $14.99/month (For Work)
StoryboardThat is an intuitive storyboarding software that has a simple interface and comes with tons of background and character templates to work with.
No feature upgrades over the last 2 years are probably the only drawback that the software has. Although StoryboardThat offers free as well as paid versions, the free version is as good as the paid one!
7. Canva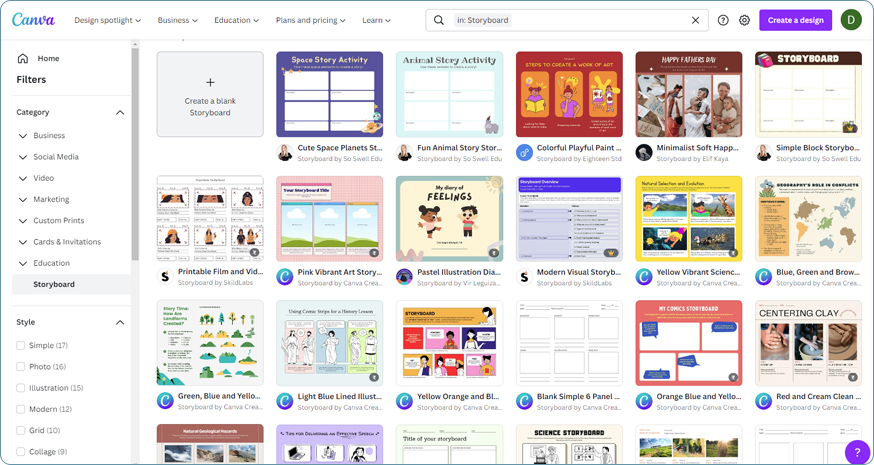 Price: Free
Canva is a widely used storyboarding tool that offers a library of templates, stock images, and frames to organize your video or presentation.
Although Canva is being widely used for storyboarding, it offers only basic graphics to work with, for more advanced graphics and features other tools need to be opted for.
Having paid and free versions both, Canva is a comparatively easy tool to work with and adds a fun factor to the process!
8. Studiobinder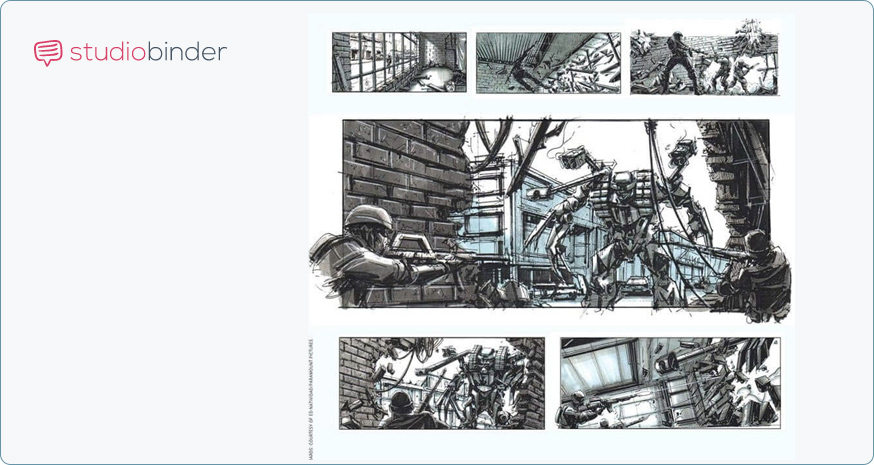 Price: $29/month (Indie); $49/month (Professional); $99/month (Studio)
Studiobinder offers a variety of tools that help customize every visual, filter columns, add images and notes, etc. Studiobinder also facilitates collaboration by offering project management features.
It lacks an undo option which slows down the overall process. Nonetheless, with an impressive client base that includes BuzzFeed, ESPN, and CBS Interactive, this software is a good tool for storyboarders and marketers that prefer customizable tools.
9. Plot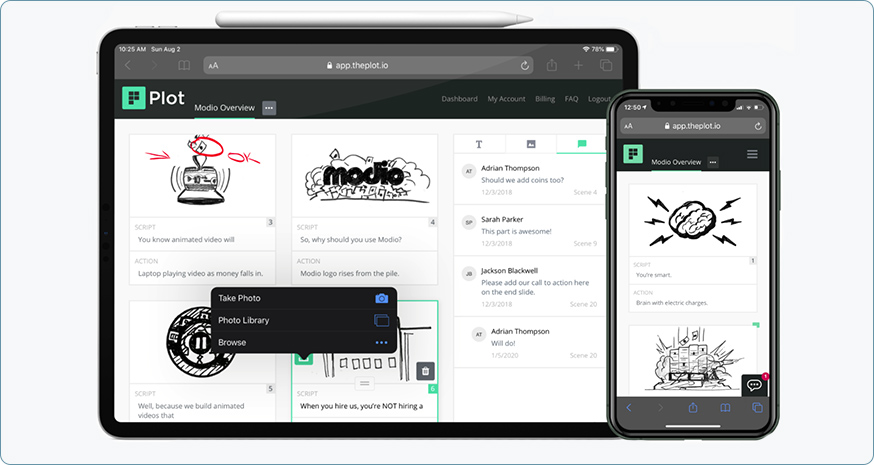 Price: Starts at $10/month
Plot is a handy storyboarding software tool that offers the complete set of essential storyboarding features. The interface is minimalistic so that users can focus on the working area rather than navigate through multiple tabs and menus.
This storyboarding software allows the scenes of the storyboard to be easily rearranged and facilitates collaboration among the team members. The absence of the offline mode and limited download options for gifs are the only cons of this software.
10. StoryboardPro by Toon Boom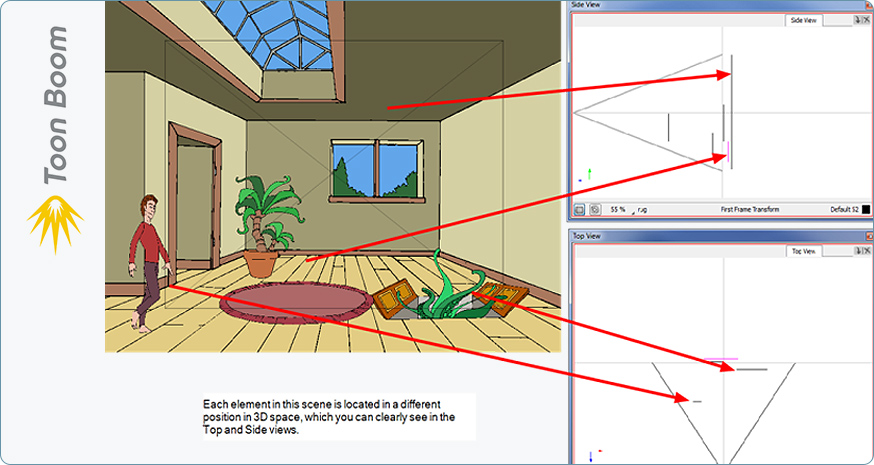 Price: $67.50 a month, $530.50 per year, $1,086.50 for lifetime access. Support software costs extra.
StoryboardPro is an all-in-one storyboarding solution that allows drawing, scripting, camera controls, animatic creation capabilities, and sound customization.
It is a powerful storyboarding tool that offers flexibility of function, is budget-friendly, and ensures high-quality visualization.
Although this storyboarding tool comes with a dongle, it is widely used by professional storyboarders, marketers, and video production teams to previsualize projects.
Conclusion
Storyboarding software can prove to be a great advantage in the video-making process. Selecting the right storyboarding tool can help you maximize the benefits of storyboarding. But to get started with storyboarding right away, you could opt for help from service providers like Video Caddy to do all the storyboarding work for you while you focus on other production and postproduction tasks.
Leverage the benefits and enhance your video-making process by letting VideoCaddy do all the storyboarding tasks for you.
Tags: Storyboarding, Storyboarding Software, Storyboarding tool, Storyboards