Video has a phenomenal way of catching our attention – a way that, often, words cannot achieve. It should come as no surprise then, that explainer videos (short animated videos) are being used more frequently by brands who need to get a message or brand story across in a memorable way.
These videos can be seen on website homepages and also specific product pages and have been known to increase conversion rates as much as 144%!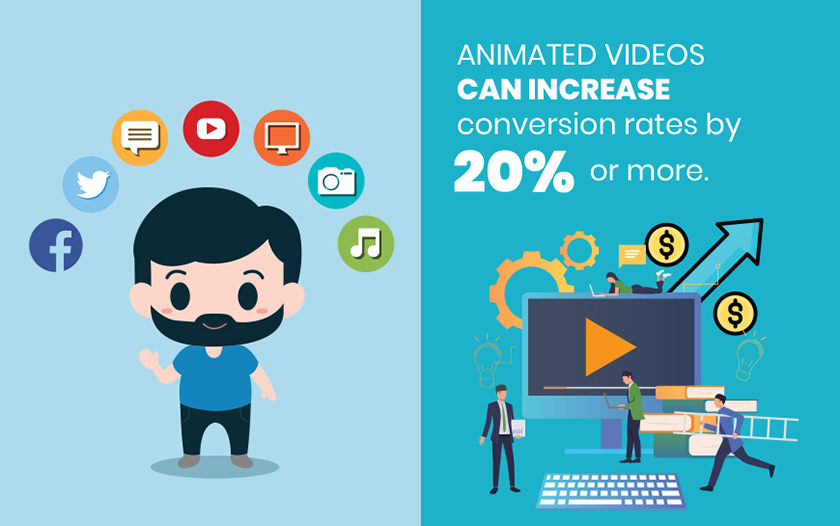 The Need for Video in Digital Marketing
A recent study showed that 85% of people are more likely to buy products which are accompanied by explainer videos. An astounding 99% of companies that are already using video to advertise their services will continue to do so ins the foreseeable future. This means that competition is quite fierce and that missing out on the potential of explainer videos might result in below average sales of your products.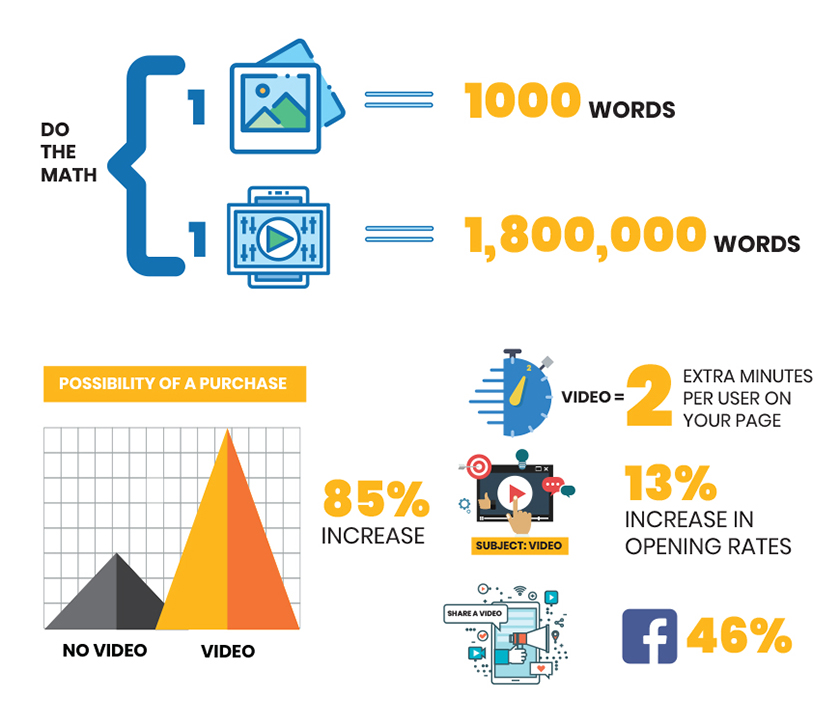 Studies show that about 74% of the users who watch explainer videos about products have subsequently bought them
By 2020, the medium for online videos will make up more than 80% of all consumer traffic. After Google, YouTube is the world's second most trafficked site, according to Alexa.
According to Google reports, nearly 50% of internet users look for videos which are related to the product or services they are interested in before they visit a store
How Effective Are Explainer Videos?
We as humans have a very short attention span, needing to be given information in a concise way in a very short space of time. In fact, a recent study has shown that human's attention span has fallen from 12 seconds in 2000 to 8 seconds today!
With that statistic in mind, can your business really afford not to have an explainer video? Animated explainer videos are concise, have an engaging story, and leave people wanting more. They show a problem and solution, visually illustrating how your products or services solve a customer need.
Possibly the greatest reason why these videos are so effective is that they can be used in a multitude of contexts, which really makes them a smart investment. Explainer videos can be kept on YouTube, embedded into the homepage of your site, as a feature of your landing page, or on social media.
The best explainer videos are ones that aren't afraid to creatively experiment in a way that writing may not allow for. The videos that succeed usually showcase your brand personality and may even incorporate a narrator that best suits the business.
Tips for Creating an Explainer Video
Well-written script
A well-written script is key to a successful explainer video. It's the foundation upon which everything else is built. In most cases, it helps to have an "outsider" write the script. Choose someone who can take a fresh look at your company and also think carefully about who the voice-over artist will be. He or she should be a native speaker of your target audience's language to make it more professional and allow your audience to feel connected to the voice on the video.
Keep it short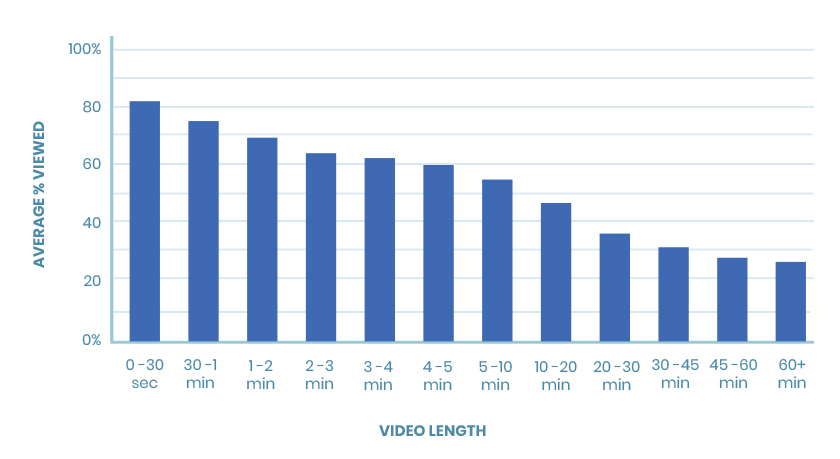 Not only will a shorter video saves time and money during production, but it's also more likely that your viewers will watch more of it. According to the below graph, roughly 70% of a 60-second video is viewed. You can also see that about 65% is viewed for a 2-minute video. So, the longer your video is, the more content your viewers are going to miss out on.
Keep it simple
Make sure the video isn't too wordy. People are more likely to recall a brand's messaging through visually appealing animated explainer videos rather any other forms of content.
Benefits over features
While the specifications of the product are important, it's the benefits that really matter to customers. Instead of droning on, tell people how your product or service is going to make their lives better. We will explain this later on in the ShamWow example.
Add background music
It's amazing what a song can do. Like the video, music can evoke all types of emotions, and it can set the tone and pace of your explainer video. It's better to figure this out when the video is complete, as music can set a tone and you don't want it to be too overpowering or prescriptive to the mood of the video.
Proof that Explainer Videos Really Work
If you make your visitors stay longer on your page, search engines will then consider it an interesting page, helping it to rank higher in search results. Video content also allows you to be on YouTube, the 2nd largest search engine.
As visitor engagement rises, bounce rate falls. A study revealed that of the senior executives at Forbes, 59% preferred to watch a video rather than read the text if both were available on the same page. Videos are also 41% more likely to receive clicks than a text post. This is affirmed by another report, which found that "marketers who are using video are seeing (on average) 49% faster growth in revenue."
Explainer Videos Are Essential
Explainer videos have boomed in popularity over the past year, due to their affordability and proven effectiveness in growing a business. One of the greatest examples of an explainer video is the ShamWow Cloth phenomenon. The ShamWow was a cloth that was super absorbent and made in Germany. The business decided to shoot a video about the benefits of the product, and the explainer video went viral and with sales reaching approximately $200 million!
The video was so popular that there were literally hundreds of remakes and parodies with millions of views. Israeli-born filmmaker and entrepreneur, Offer Shlomi, was hilarious and to the point and was able to connect with consumers as no infomercial had ever before. The ShamWOW video phenomenon is proof that a video that is done right can greatly increase sales.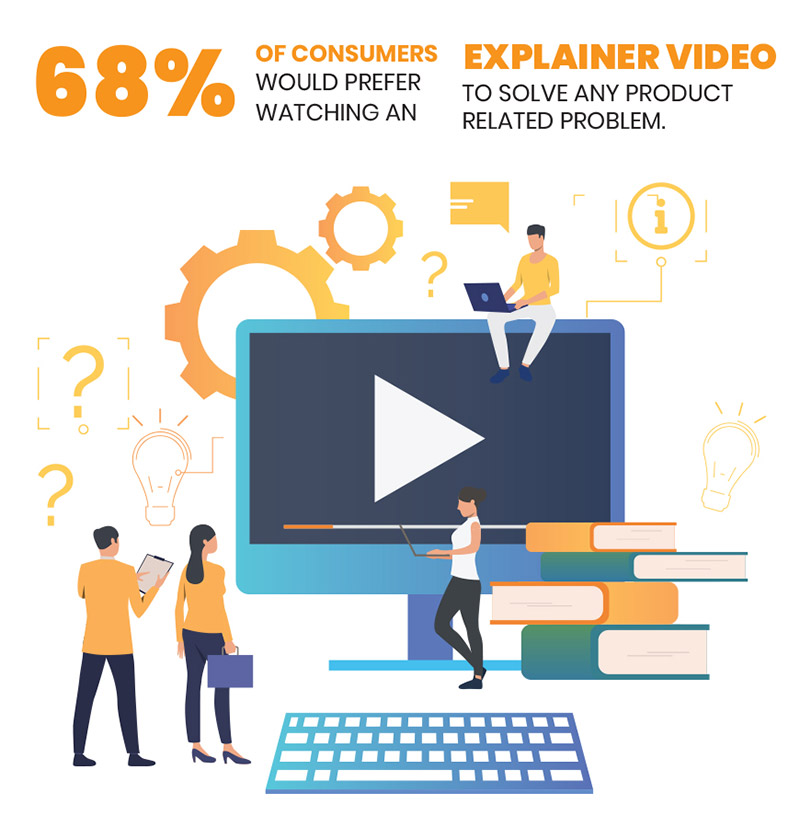 How Explainer Videos Help Businesses
With all of this in mind, ask yourself – what is stopping you from having your own business explainer video? The greatest benefits of explainer videos include increased conversion rates, increased interest in your product or service, increased web traffic, the ability to help audiences retain information, livening up of your pitches and giving a consumer an easy call to action. Let Video Caddy help you create your own explainer video today.
– Video Caddy