As it sounds, aerial videography is the capturing of video from a low-flying platform. Providing benefits to almost all industries, from tourism to real estate, conservation, and emergency response, aerial videography offers angles and videography shots that cannot be captured any other way.
Providing a distinctive and unique view of events and locations, aerial videography is ideal for videoing places from a birds-eye point of view, and has been used in:
Area Mapping
Science and research
Videoing wildlife populations and pest infestations
Event Coverage
Agriculture
Mapping of dynamic land features
Mining
Military and Intelligence
Land cover mapping
Disaster Management
Security
Public safety
Weddings
Videoing construction Areas
The Technical Might of Aerial Videography
Aerial videography drones create impactful and dramatic videos, utilizing software and sensors that allow for automated responses to their camera input, evolving the technology to connect to even smartphones – though they are smart even without interconnecting with the guidance systems provided by smartphones.

The powerful technology in drones feature microprocessors able to automate processes, and most commercial drones interface seamlessly with each other, and the internet, using avionics similar to those found of military and commercial aircraft, with various sensors.
Aerial Videography at Its Best with Advanced Drones
The Inspire 2 is currently the most commonly used drone in the world, and is manufactured by DJI, the largest drone manufacturer in the world, who has announced new cameras, the first micro four thirds cameras specifically designed for aerial use, with a dynamic range of 13 stops and a resolution of 16 megapixels, able to shoot 4k video in both 24fps and 30fps.
New Computer Vision software is soon to allow drones to stream video to object recognition servers, enabling them to analyze their surroundings and act according to predefined instructions. Acting similarly, pattern-recognition software is also upcoming, as is software for autonomous mission planning which will allow for a GPS guided mode and the operation of aerial mapping tools.
While obstacle avoidance sensors are the largest hurdles for drone technology to clear before gaining commercial-use approval from the FAA, SkySpecs Guardian will take over flight control when collisions are imminent, acting as a co-pilot.
Aerial Videography Market Overview
Created as cheaper, safer alternatives to human-crewed aircraft for military application, drones have become consumer toys, as well as tools for commercial business, though they are still used by the military. In 2016, the market for commercial drones was $2.8 billion, with 110,000 million units sold, though 2017 predicted a growth of 60%.
Unmanned aerial vehicles (UAVs) went from science fiction to everyday reality in just a few decades, and while many many applications were designed for military use, with UAVs seen mainly as reconnaissance vehicles for use during wartime, consumers have recently seen the debut of UAVs for public markets, such as package delivery robots.
While the technology is becoming relatively common, UAVs are still most associated with military applications, with their use in surveillance a controversial topic. They are also used in firefighting and for police use.
Leading Market Players
Many might wonder how to choose aerial video equipment, and below we cover three of the major drone manufacturers and their benefits.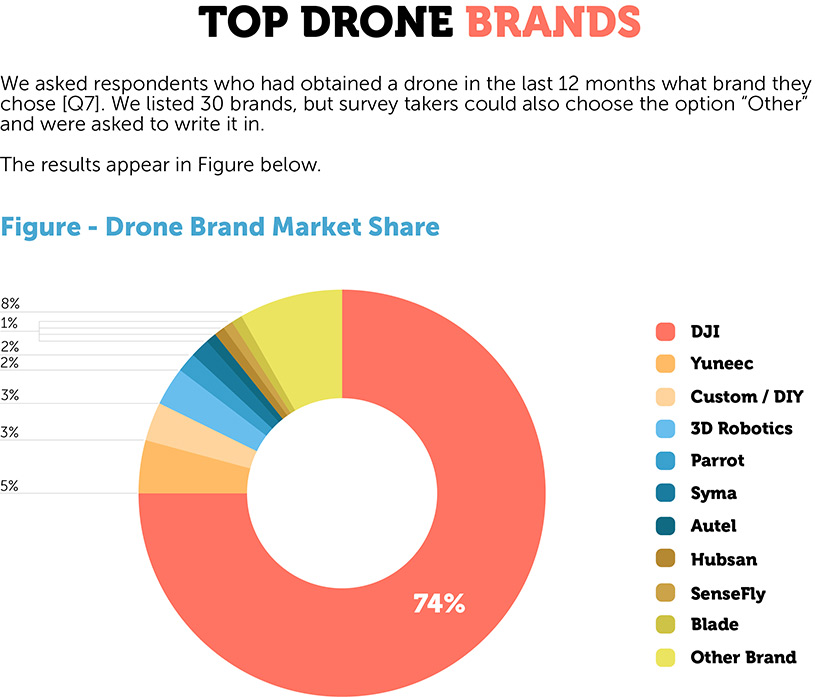 DJI: Da-Jiang Innovations
One of the leading drone manufacturers for commercial purposes, Da-Jiang Innovations are known for their Mavic and Inspire drones, the quintessential drones for new and intermediate videographers and pilots. Their Phantom 4 is one of the best-selling aerial photography and videography drones on the market currently.
DJI is one of the top consumer drone manufacturers, known mainly for their Mavic series. The Mavic series has become the quintessential drone for new to intermediate pilots and videographers, and the simultaneous launch in late 2018 of the Mavic 2 Pro and Mavic 2 Zoom was huge news in the industry. The Phantom 4 – is one of the bestselling quadcopters on the market for aerial photography and video recording. DJI is today leading the charge into transforming civilian-drone manufacturing from something for hobbyists into a proper business.
Their Mavic Pro, thanks to a gimbal-stabilized Hasselblad camera and one-inch CMOS sensor offers the sharpest videos and stills of any consumer drone on the market, and new software creates stunning aerial videos.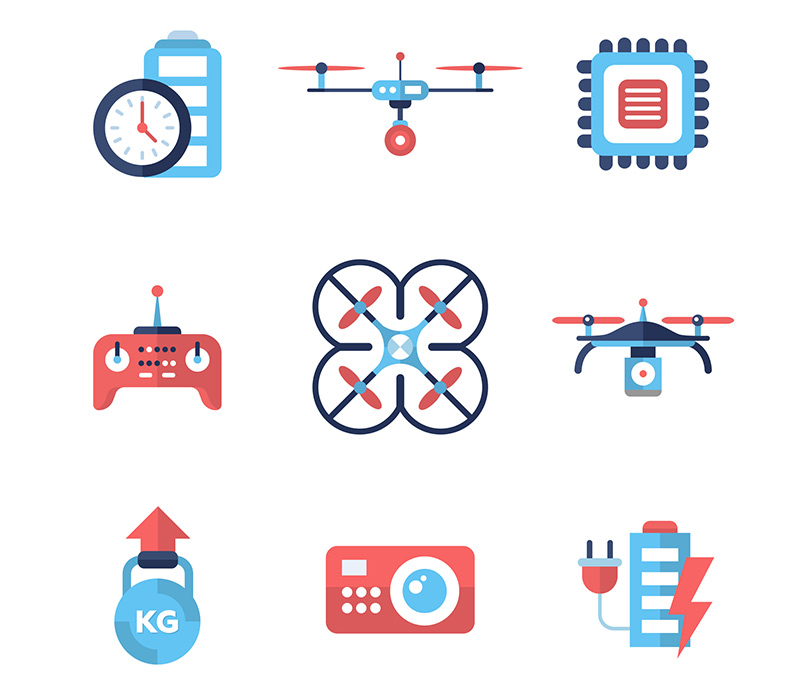 Yuneec
Also considered a major player in electric aviation, Yuneec started out as a manufacturer of radio-controlled model aircraft and now manufactures easy-to-use drones. Their Typhoon, the world's first quadcopter drone that was ready to fly out of the box, which was later updated with dynamic panning, a focusing functionality, and 4k camera, has become a major market share to DJI's Phantom.
Their innovation in the aircraft industry began with their creation of the first ready-to-fly fixed wing RC airplane which was commercially successful, followed by their aerial video quadcopter and in 2018, Mantis Q – the first ever voice-controlled drone.
The Typhoon 4k is known as the best value 4k system available, with an included Android touchscreen controller for faster setup. Able to capture 1080p/120fps slow motion video, it also featured Handheld SteadyGrip.
Parrot
Having begun a steady transition into the drone market, Parrot has exceeded DJI in global awareness. A competitor to DJI in aerial videography and photography, the Parrot Bebop series is, because of its affordability, one of the most popular camera drones on the market.
Their Bebop 2.0 offers a 25-minute battery life and greater altitude thanks to powerful motors, their camera makes use of a fisheye lens, and their stabilization software means a gimbal isn't needed. The rubber dampeners on the chassis reduce vibration in-flight, which also produces the judder-free video.
Aerial Videography Global Industry Analysis and Forecast
Set to exceed USD 4 billion by 2024, the aerial imaging market and UAV platform held a market share of 71% in 2017, thanks to its adoption by military and defense, government, agriculture, construction and oil, and gas companies.
Set to account for a majority (42%) of the market share by 2024, North America has large-scale investments in aerial imaging technology by major players such as government, the US Federal Aviation Administration (FAA) and Google. The rapid adoption of UAVs for agriculture imaging means the region should expect steady growth from 2018 to 2024.
The commercial drone market is also expanding, with two industries dominating – with construction making up the largest sector at USD 11 billion.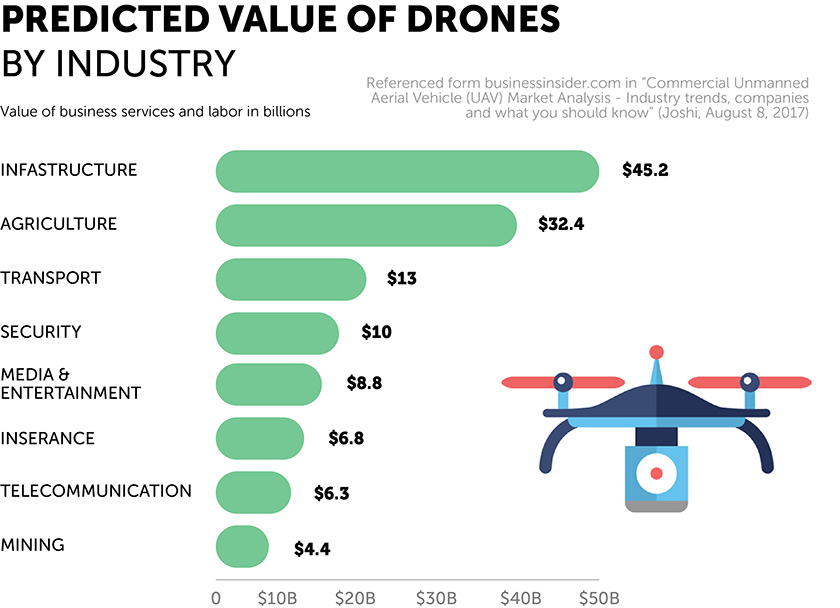 Aerial videography trends show that the drone market is expected to near $127 billion by 2020, with agriculture predicted to be the largest area of growth. Consumer drone shipments are also forecasted to reach 67.6 million units by 2021.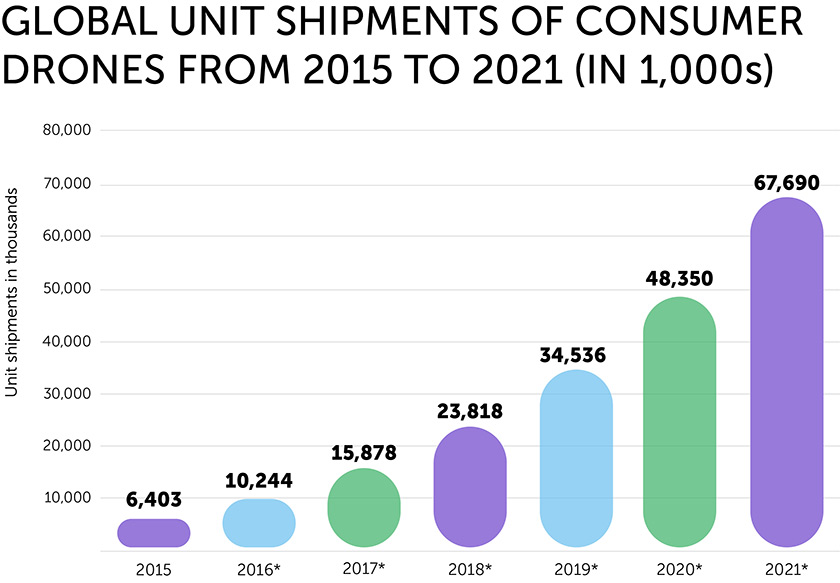 Stunning Aerial Shots for Every Industry
Aerial videography is a growing field with applications applying to brand and marketing, conservation, construction, real estate, and special occasions. Aerial videography adds a new dimension to videos, offering an opportunity to stand out from the crowd and make a good impression. All businesses can make use of aerial videography for marketing purposes, and it's becoming more common to see a bird's eye views. After you've chosen the best camera for aerial video, the applications are endless.
Of course, partnering with experienced video editors can help you make the best use of your aerial videography, combining it with any other collateral to design videos that maximize your content's value. With years of experience telling stories, partnering with professional video editors promises high-quality results.
-Video Caddy